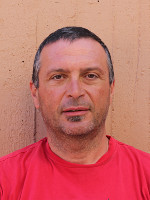 Contact
telephone number: +302821037292
email: spiperidisisc.tuc.gr
address: School of Production Engineering and Management, Technical University of Crete, 73100 Chania, Greece
office: D4.110
Specialty: Computer Engineer.
Brief CV: Savvas Piperidis supports the laboratory's educational and research activities since 2002. His research areas cover the subjects of design and programming of autonomous robots. He is among the founding members of the TUCer team that develops low consumption urban concept electric cars since 2007.
Education: Diploma (1994) Computer Engineering & Informatics Department, School of Engineering, University of Patras. MSc (2005) and PhD (2014), School of Production Engineering and Management, Technical University of Crete, Greece.
Research Interests: Autonomous robots, TUCer team.
Publications
Piperidis, S.; Chrysomallis, I.; Georgakopoulos, S.; Ghionis, N.; Doitsidis, L.; Tsourveloudis, N. A ROS-Based Energy Management System for a Prototype Fuel Cell Hybrid Vehicle. Energies 2021, 14,1964 link

Spanoudakis, P.; Moschopoulos, G.; Stefanoulis, T.; Sarantinoudis, N.; Papadokokolakis, E.; Ioannou, I.; Piperidis, S.; Doitsidis, L.; Tsourveloudis, N.C. Efficient Gear Ratio Selection of a Single-Speed Drivetrain for Improved Electric Vehicle Energy Consumption. Sustainability 2020, 12, 9254 link

Savvas Piperidis, Iason Chrysomallis, Stavros Georgakopoulos, Theodoros Stefanoulis, Nikolaos Ghionis, Vasileios Katsifas and Nikos C. Tsourveloudis, "Development of a ROS controlled chassis dynamometer for lightweight, single seater EVs," 2020 28th Mediterranean Conference on Control and Automation (MED), Saint-Raphaël, France, 2020, pp. 393-398 pdf

Theodosis Ntegiannakis, Odysseas Mavromatakis, Savvas Piperidis, Nikos C. Tsourveloudis, "Upgrading a Legacy Outdoors Robotic Vehicle", Advances in Service and Industrial Robotics, Proceedings of the 27th International Conference on Robotics in Alpe-Adria Danube Region (RAAD 2018), In series Mechanisms and Machine Science, vol 67, Springer pdf

Tzortzis, G., Amargianos, A., Piperidis, S., Koutroulis, E., Tsourveloudis, N.C., "Development of a compact regenerative braking system for electric vehicles," in Control and Automation (MED), 2015 23th Mediterranean Conference on, pp.102-108, 16-19 June 2015 pdf
Piperidis, S., Tsourveloudis, N.C., "Biomimetic Behaviour Based Underwater Control," Control & Automation (MED), 2014 22nd Mediterranean Conference of, pp.764-772, 16-19 June 2014 pdf
Piperidis, S., Tsourveloudis, N.C., "Testing controllers on ALE III: A low cost mini Autonomous Underwater Vehicle," Control & Automation (MED), 2013 21st Mediterranean Conference o , pp.551-557, 25-28 June 2013 pdf
S. Piperidis, N. Tsourveloudis, "Design and Control of an AUV in a virtual environment" (in Greek), 2nd Hellenic Robotics Conference (HEROC), December 09-10, Patras, 2010
N. Vlassis, M. Toussaint, G. Kontes, and S. Piperidis, Learning Model-free Robot Control by a Monte Carlo EM Algorithm, Autonomous Robots, 27(2):123-130, 2009 pdf
L. Doitsidis, N. C. Tsourveloudis, S. Piperidis, "Evolution of Fuzzy Controllers for Robotic Vehicles: The Role of Fitness Function Selection", Journal of Intelligent and Robotic Systems,vol. 56, pp. 469–484, 2009 pdf
N. Vlassis, G. Kontes, S. Piperidis, "Reinforcement Learning of Robot Control via Probabilistic Inference" (in Greek), 1st Hellenic Robotics Conference (HEROC), February 23-24, Athens, 2009.
S. Piperidis, L. Doitsidis, C. Anastasopoulos, and N. C. Tsourveloudis, "A Low Cost Modular Robot Vehicle Design for Research and Education", in Control & Automation, 2007. MED '07. Mediterranean Conference on, pp.1-6, 27-29 June 2007 pdf