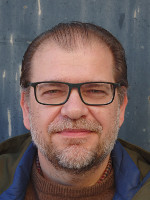 Contact
Brief CV: Dr. Lefteris Doitsidis is an Assistant Professor at the School of Production Engineering & Management of the Technical University of Crete. Prior to his appointment, he was a faculty member (Associate & Assistant Professor) at the Department of Electronic Engineering, Hellenic Mediterranean University (former TEI of Crete). He was also a visiting scholar at the Department of Computer Science and Engineering, University of South Florida, FL, U.S.A.
He is the author of more than 45 publications, in international journals, conference proceedings and book chapters. His research interests lie in the areas of multirobot teams, design of novel control systems for robotic applications, autonomous operation and navigation of unmanned robotic vehicles and computational intelligence. He has been involved into numerous research projects funded by European and National funds.
Education: Diploma (2000) MSc (2002) and PhD (2008) in Production and Management Engineering, Technical University of Crete.
Research Interests: Robotic Vehicles, Computational Intelligence, Cooperative Control and Optimization, Educational Robotics.
Selected Publications
Sophokleous, A.; Christodoulou, P.; Doitsidis, L.; Chatzichristofis, S.A.Chatzichristofis, "Computer Vision Meets Educational Robotics. Electronics", 2021, 10, 730. pdf
E. Papadokokolakis, P. Spanoudakis, L. Doitsidis, N. Tsourveloudis, "Analysis and comparison of a single-material versus multi-material chassis design for lightweight electric vehicles," International Journal of Vehicle Systems Modelling and Testing, vol. 15. No. 1, pp. 60-80, 2021.
S. Evripidou, K. Georgiou, L. Doitsidis, A. A. Amanatiadis, Z. Zinonos and S. A. Chatzichristofis, "Educational Robotics: Platforms, Competitions and Expected Learning Outcomes," in IEEE Access, vol. 8, 2020.pdf
P. Spanoudakis, N. Tsourveloudis, L. Doitsidis, E. Karapidakis, "Experimental results of transmission use on electric vehicle's energy consumption", Energies, vol. 12, issue. 3, 2019. pdf
Lefteris Doitsidis, George N. Fouskitakis, Kyriaki N. Varikou, Iraklis I. Rigakis, Savvas A. Chatzichristofis, Androniki K. Papafiippaki, Athanasia E. Birouraki, "Remote Monitoring of the Bactrocera oleae (Gmelin) (Diptera: Tephritidae) Population Using an Automated McPhail Trap", Computers and Electronics in Agriculture, vol. 137, pp. 69-78, 2017. pdf
A. C. Kapoutsis S. A. Chatzichristofis, L. Doitsidis, J. Borges de Sousa, J. 
Pinto, J. Braga, E. B. Kosmatopoulos, "Real-time Adaptive Multi-Robot Exploration with application to Underwater Map Construction," Autonomous Robots, vol. 40, no. 6, pp. 987-1015, 2016. pdf
D. Scaramuzza, M.C. Achtelik, L. Doitsidis, F. Fraundorfer, E.B. Kosmatopoulos, A. Martinelli, M.W. Achtelik, M. Chli, S. A. Chatzichristofis, L. Kneip, D. Gurdan, L. Heng, G.H. Lee, S. Lynen, L. Meier, M. Pollefeys, A. Renzaglia, Roland Siegwart, J.C. Stumpf, P. Tanskanen, C. Troiani and S. Weiss, "Vision-Controlled Micro Flying Robots: from System Design to Autonomous Navigation and Mapping in GPS-denied Environments," IEEE Robotics and Automation Magazine, vol. 21, issue 3, pp. 26-40, September 2014. pdf
A. Amanatiadis, S. A. Chatzichristofis, K. Charalampous, L. Doitsidis, E. B. Kosmatopoulos, P. Tsalides, A. Gasteratos and S. Roumeliotis, "A multi-objective exploration strategy for mobile robots under operational constraints," IEEE Access, vol.1, pp. 691-702, 2013. pdf
L. Doitsidis, S. Weiss, A. Renzaglia, M. W. Achtelik, E. Kosmatopoulos, R. Siegwart, D. Scaramuzza, "Optimal Surveillance Coverage for Teams of Micro Aerial Vehicles in GPS-Denied Environments using Onboad Vision," Autonomous Robots, vol. 33, no.1-2, pp. 173-188, 2012. pdf
A. Renzaglia, L. Doitsidis, A. Martinelli and E.B. Kosmatopoulos, "Multi-Robot 3D coverage of unknown areas," International Journal of Robotics Research, Vol. 31, no.6, pp. 738-752, May 2012. pdf
L. Doitsidis, N. C. Tsourveloudis, S. Piperidis, "Evolution of fuzzy controllers for robotic vehicles: The role of fitness function selection," Journal of Intelligent and Robotics Systems, vol. 56, no.4, pp.469-484, 2009. pdf
A. Nelson, G. Barlow, L. Doitsidis, "Fitness Functions in Evolutionary Robotics: A Survey and Analysis," Robotics and Autonomous Systems, vol. 57, Issue 4, pp. 345-370, 2009. pdf
N. Tsourveloudis, L. Doitsidis and S. Ioannidis, "Work-in-process scheduling by evolutionary tuned fuzzy controllers," International Journal of Advanced Manufacturing Technology, vol. 34, no. 7-8, pp. 748-761, 2007. pdf
K. P. Valavanis, L. Doitsidis, M. Long, R. R. Murphy, "Implementation and Experimental Validation of a MATLAB Based Control Architecture for Multiple Robot Outdoor Navigation," IEEE Robotics and Automation Magazine, pp. 93-107, September 2006. pdf
Check out Doitsidis' Google Schoolar Profile